Message us with a photo and video
Our representatives will contact you
A free appointment will be scheduled

Book Now
| | |
| --- | --- |
| WEEK DAYS: |  7AM – 5PM |
| SATURDAY: |  8AM – 4PM |
| SUNDAY: |  CLOSED |
| EMERGENCY: |  24HR / 7DAYS |
Toronto Auto Frame Straightening Service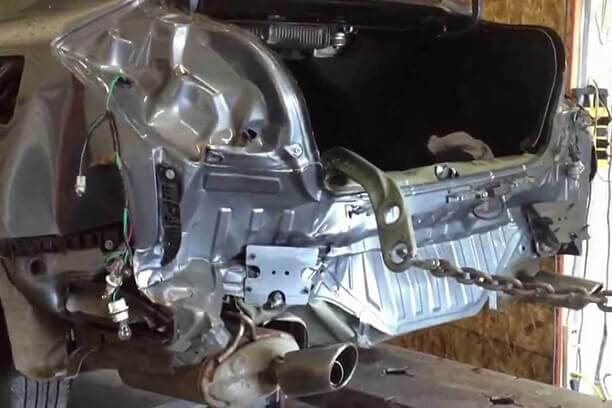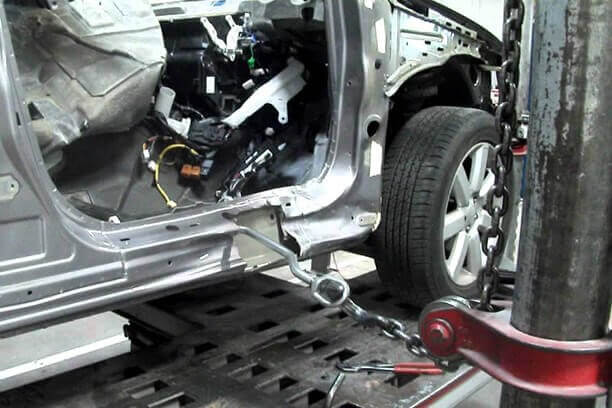 Your Auto Frame Straightening Shop Serving Toronto, Ontario
Repairing a dent or coloring it over is not be as urgent as repairing structural damage or a bent frame. Your car's frame is very critical and plays a vital role in ensuring that your car functions properly and upholds your safety and that of your loved ones.
Most importantly, structural damage of the frame is often not as visible as a scratch or dent and it may require you to disassemble your car to assess its damages. If any problem such as a bent, twisted or crumpled frame is noted, it is always advisable to opt for a car frame straightening service to prevent serious bodily harm in the event of a future accident. If you are a resident of Toronto, Ontario, get in touch with us when involved in a collision. We are leaders in the field of auto frame straightening and will restore your vehicle to its original integrity.
An Auto Frame Straightening Shop That Produces Quality Results
When it comes to your safety and that of your loved ones, the frame straightening cost should be the least of your worries. This is because bringing your car to a reputable frame repair shop near Toronto will save you more much more in the long run compared to the expenses you will incur after a collision.
When choosing a frame straightening shop in the Toronto area, always go for a reputable and certified service station. We are a leading auto frame shop near Toronto to have your auto frame straightening done. Our car frame straightening experts will thoroughly check and repair your car's frame regardless of whether it is a uni-body or a frame where all the vital components are built on. Give us a call today, and we guarantee that working with us will be worth the investment.
Quality Service Guaranteed
Over 30 years of Experience
Free Assessments & Estimates
No Appointment Necessary
24 Hour Towing Available
Free Shuttle Service
Quality Loaner Cars Available

Professional Car Frame Straightening Near Toronto, ON
The first thing that you should do in the event of an accident or collision is to find a shop that performs car frame straightening near Toronto, ON. In most cases the real damage on the frame is not noticeable until the vehicle is disassembled and a thorough inspection is done. Notably, your car's suspension and mechanical assemblies are fixed directly on the frame. Hence, any damage to the frame will distort the structural integrity of your car. It will wear down tires, increase strain on the engine and make your car unstable at moderate speeds.
Furthermore, every frame has crumble points which give way during a collision and this ensures that the car structure does not fail on you. However, if your frame is damaged and you have not yet considered car frame straightening, and should there be a collision, there will be high chances of severe damage.
A Car Frame Straightening Shop Serving Toronto That Produces Quality Results
At our straightening shop servicing Toronto, Ontario, we have the required infrastructure to ensure that the auto frame strengthening of your car is done to perfection and that your car's frame will be stable and its integrity will be restored.
If the damage is minor, the car will be mounted on a frame alignment machine which will align the frame to its original condition. If our technicians find that there is severe damage to the frame, the particular section will be removed and a new metal section will be welded into place. In both cases, you can be sure that we will do a thorough job and your future safety will be upheld.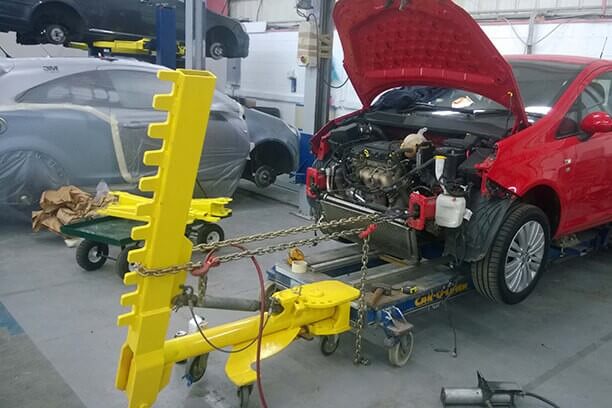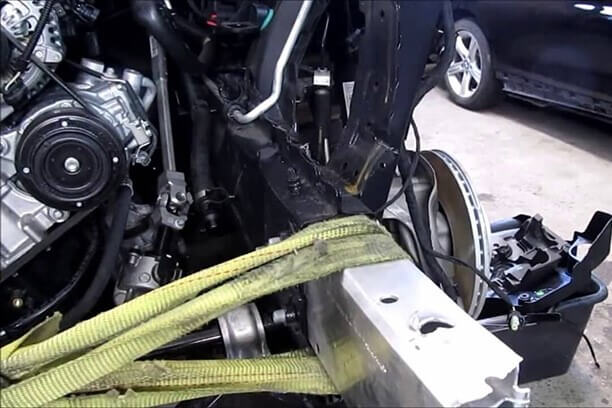 Choose A Dependable Frame Straightening Shop Servicing Toronto
When searching the web for frame strengthening near Toronto, Ontario, opting for our service center is a decision that will not disappoint. We have manufacturer-trained technicians who are fully conversant with frame structures, regardless of the make or model of the vehicle.
We use technologically advanced and state of the art diagnostic and repair tools that make sure that your vehicle is repaired to perfection. In most cases, these tools help us to find other unrelated faults which are then taken care of to avoid further damages.
Don't Settle For The Hight Frame Straightening Cost of Other Shops Around Toronto
Our superior car frame straightening services in Toronto, Ontario, are coupled by a transparent pricing policy with no hidden costs. Our appraisers will conduct a full inspection and prepare a damage report prior to regular inspection by the insurance authorities.
Based on the superior quality of our services, our rates are quite reasonable and affordable. Take a snap of the damaged portion of your car and upload it to our website for a quick online quote.

 Service Area
Toronto, Ontario
 Shop Hours
| | |
| --- | --- |
| WEEK DAYS: |  7AM – 5PM |
| SATURDAY: |  8AM – 4PM |
| SUNDAY: |  CLOSED |
| EMERGENCY: |  24HR / 7DAYS |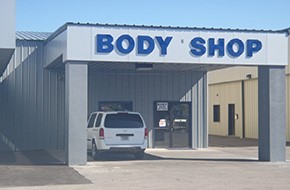  Contact Us
Call the number above to speak to us immediately or fill in the form below.
Collision Insurance Accepted!
We Are Proud to Work with Some of the Leading Insurance Companies

Book your free appointment